Evolution Of The Morrin Site
Project Description
The Morrin Center has changed over the centuries from originally a fortress to prison to learned society, it's been a constant yet changing feature in the old City. The Morrin had just completed a permanent museum installation in the old prison rooms located on the main floor of the building and asked me to build an interactive kiosk where visits to the museum could interact with models of the building from the different periods of it's existence.
3D Building Kiosk
The task of building three of the structures from the past was a fascinating project. For the fortress there was only a few designs and floor plans of the structure, I had to travel to Quebec City and inspect similar buildings that still currently stand and use what I could capture from them and apply them to my model. The models were constructed in 3D Studio Max and displayed in Flash using a 3D engine. Interactive 3D is closer to building for a game engine then on online presentations, the models have to be perfect with no mesh imperfections that would kill the engines frame rate, as well all the models textures have to fit into one graphic file that the engine uses to clade the wireframe meshes.
This project was so amazing to work on, set with the task to building strutres that's only record are some old design plans and paintings
Explore Me
Details
Programming Bill Sullivan
3D Artists Levi Yates, Bill Sullivan, Vincent Brisebois
Autodesk 3D Studio Max

40%

40%

Adobe Flash

40%

40%

Adobe Photo Shop

10%

10%

Adobe Illustrator

10%

10%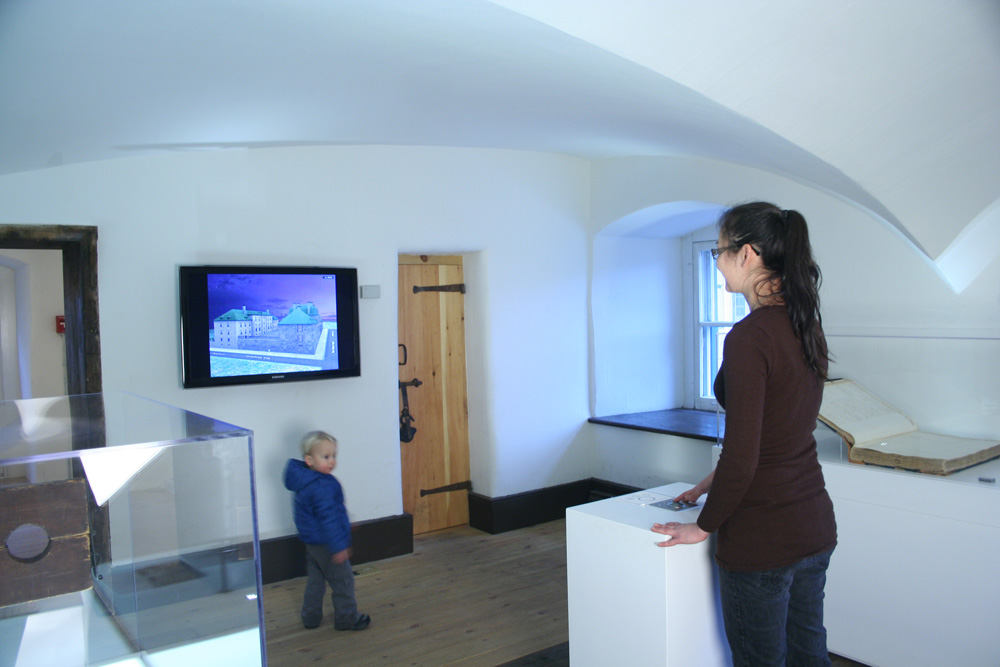 Interactive Kiosk
The Kiosk uses a video monitor to display the different 3D models and a plinth with roller ball mouse to allow visitors to select from the three different models and rotate and zoom. It's a great asset for the museum and adds a level of interactivity that engages visitors old and young alike.